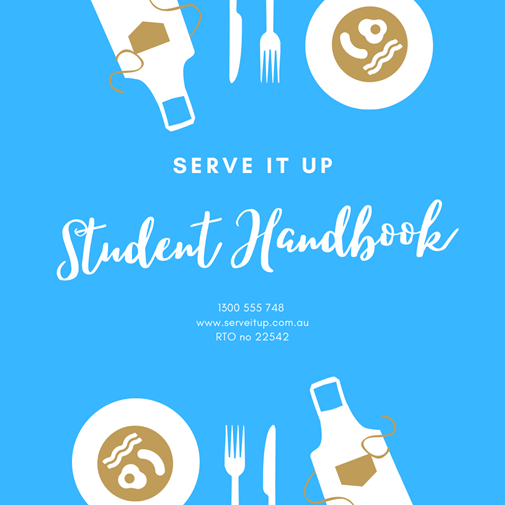 Guide to this Handbook
The information contained in this Handbook includes important details about how our RTO works, what you can expect from us and your rights and obligations as a student.
Please read this handbook carefully and ask questions about anything you do not understand.
If you require further information on any of our policies and procedures, please contact the office and we will happily provide that information to you.
About Serve It Up
Serve It Up (SIU) is a Registered Training Organisation (RTO) with the registration number 22542, providing Vocational Education and Training (VET).
What sets us apart from other colleges is that we get to know every student; you will be more than just a number to us, you will be part of our family. You have more one-on-one attention and support and, as we have smaller classes than a large college, it's easier for us to help you find work.
We believe in real skills for real jobs and we take the extra time to customise our course materials and create new and innovative ways of delivering course content. SIU has several industry partners and we have a dedicated team to build our employer networks for placements and employment opportunities for our students.
SIU complies with the standards administered by the Victorian Qualification & Registration Authority (VRQA).
Our Head Office is 39/617-643 Spencer Street, West Melbourne, 3003. Our administration team work from here, alongside classrooms, training bars and a restaurant and event space.
Recommended Apps to Download
| | |
| --- | --- |
| Canvas | Online Learning Management System (LMS) used by SIU students |
| PTV | Journey Planner |
| Forest | Stay Focused on Work |
| Zomato | Food and Drink Rating |
| Tram Tracker | Live Updates and Tram Times |
| Todait | Study planner |
| Headspace | Meditation |
| TED Talks | Inspirational and motivational talks |
| Quizlet | Revision, flash cards and tests |
| Sleep Cycle Alarm Clock | Analyses your sleep and wakes you during your lightest sleep phase |
| Atmosphere | Study music |
| Memrise | Memory game to help learn new things everyday |
| Egenda | Assignment planner |
| Curiosity | Daily dose of news that will keep your brain sharp |
| Monefy | Money tracker |
Helpful Contacts & Useful Links
SIU Contact Details

Address
Unit 39, 617-643 Spencer Street, West Melbourne, Victoria, 3003
Email

[email protected]

Phone
1300 555 748

Victorian Registration and Qualifications Authority (VRQA)

Phone
03 9637 2806
Website
www.vrqa.vic.gov.au

Fair Work (for payrates & work conditions)

Website
www.fairwork.gov.au

Lifeline Australia (Crisis Support & Mental Health)

Phone
13 11 14

Public Transport Victoria (PTV)

Website
www.ptv.vic.gov.au/journey

Department of Education, Employment & Workplace Relations

Phone
1300 363 079

Student Housing

Melbourne Events and Activities
Application Process
DOWNLOAD the course brochure and the statement of fees from www.serveitup.com.au and do some research on the course you are interested in studying.
INVITATION You will receive an invitation from SIU or one of our approved brokers asking you to attend the next information session for your course. Alternatively, you can chat to us about our courses at any time by filling out the "contact us" panel on our website, visiting our Head Office or calling 1300 555 748.
INFORMATION SESSION Attend the information session, where all course details are advised, and ask any necessary questions you may have to the trainer and SIU staff member. If you decide the course is for you, you will be given a Pre-Training Review (PTR) to ensure you meet the literacy and numeracy and other standards required. If both you and the trainer agree the course is appropriate, you'll be sent a link to complete an Enrolment Form online. Read this Student Handbook to ensure you understand attendance requirements and other policies and procedures prior to confirming your enrolment.
START STUDYING We begin new classes each week, with options to study mornings, afternoons or evenings.
Pre-Training Review and Enrolment
SIU conducts a detailed Pre-Training Review of a prospective student's training needs to establish whether the course in question is appropriate for their needs.
Our review includes:
Discussing why you wish to enrol in the qualification

Ensuring understanding of training and assessment methods for the qualification you have chosen.

Self-assessment of your digital literacy

Discussion between you and the trainer to identify any additional support that you may require
Recognition of Prior Learning (RPL)
If you want to obtain credit for skills and experiences you already have, please provide us with a completed RPL application form with a copy of your resume. Fees will apply for this service.
Credit Transfer (CT)
If you have qualifications from previous studies, please note the details on your Pre-Training review form. You will be required to provide a Statement of Attainment. Once SIU has verified the documents, a Credit Transfer will be applied. In some situations, we recommend still attending the class as the context could be different, but you will not be required to undertake assessment for any credit transfer units. No fees apply.
Language, Literacy and Numeracy (LLN)
Your LLN levels are assessed during your Pre-Training Review. The LLN assessment is an indicator of how your skills match the levels of the course. The assessment helps us to determine what kind of support you might require to successfully complete the course.
To successfully complete most training, you will need:
Reading competencies sufficient to understand class materials and documentation used typically within industry (such as technical literature, standards documentation, procedure manuals).

Writing skills sufficient to prepare notes and assignments on knowledge gained from classes, group discussions, industry experience, literature reviews, procedures, journals and to participate in written assessment exercises.

Personal organisational skills sufficient to work independently, self-manage learning activities and prepare material for presentation in class and to assessors in accordance with an agreed schedule;

Communication skills sufficient to engage in group discussion issues in your area of training and to present work in class and to assessors;

Numeracy skills sufficient to perform basic operations (addition, subtraction, multiplication and division) using a calculator.

Digital literacy sufficient to access and browse the internet, log into a website, watching videos and read text online.
If you do not have some or all these skills, you may be eligible for Foundation Skills training. This will be discussed with you at your Pre-Training Review.
Online Service Standards
Certain parts of the course are undertaken online so, as part of your Pre-Training Review, we will assess your digital and online literacy. We will endeavor to provide reasonable adjustment to students who, for various reasons, may not be able to complete online elements of the course. Please refer to our Online Service Standards as outlined on our website, which outlines support, learning and assessment requirements.
Enrolment
The enrolment form will collect your personal details, data that is required to be reported to various government departments and outlines the terms and conditions of enrolling with SIU along with:
Victorian Student Number (VSN)
Since 2009 in schools and since 2011 for vocational education and training (VET) organisations and Adult Community Education providers, a Victorian Student Number (VSN) has been allocated upon enrolment to each individual student aged up to 24 years. Students should report their VSN on all subsequent enrolments at a Victorian school or training organisation. In particular, all students who are currently enrolled in either a VET provider or a Victorian school (including those already participating in a VET in schools program) should obtain their VSN from their current education or training organisation and report their VSN on this enrolment form. Students who are enrolling for the first time since the VSN was introduced will get a new VSN.
SIU ensures that it complies with Victorian Student Number (VSN) reporting requirements and Unique Student Identifier (USI) requirements and includes the VSN as specified in the Victorian VET Student Statistical Collection Guidelines.
Unique Student Identifier (USI)
All students undertaking a nationally recognised vocational training program are required to have a USI. You can apply for a USI directly or request that SIU apply for a USI on your behalf.
If you're studying nationally recognised training in Australia from 1 January 2015, you will be required to have a Unique Student Identifier (USI). Your USI links to an online account that contains all your training records and results (transcript) that you have completed from 1 January 2015 onwards. When applying for a job or enrolling in further study, you will often need to provide your training records and results (transcript). One of the main benefits of the USI is the ability to provide students with easy access to their training records and results (transcript) throughout their life. You can access your USI account online from your computer, tablet or smart phone anytime. 
SIU will ask you for your USI (if you have one) at enrolment. We will help you to locate your USI if you can't recall it or we can apply for your USI on your behalf, if you grant us permission on your enrolment form.  When SIU applies for a USI on your behalf it will have access to previous study records unless you deny this access, via the online portal.
Your USI will not be disclosed to anyone/company except as allowed by the Privacy Act 988. Refer to www.usi.gov.au for more information on your USI.
Serve It Up is a trading name of Serve It Up Training Pty Ltd. When we verify or create your USI, you will receive an email to notify you that Serve It Up Training Pty Ltd has verified or created your USI.
We can be prevented from issuing you with a nationally recognised VET qualification or statement of attainment when you complete your course if you do not have a Unique Student Identifier (USI). If you have not yet obtained a USI you can create one at the USI website. If you would like us to apply for a USI on your behalf you must authorise us to do so and declare that you have read the privacy notice on the USI website. Refer to www.usi.gov.au for more information on your USI.
Eligibility for Government Subsidised Training
You may be eligible for a government subsidised place. This is called the Skills First Program. If you are eligible, the government will contribute to the cost of your training. To check your individual eligibility, or if you want further course information, call or email the office. There are limitations to using the Skills First Funding; you need to make sure you are enrolling in the right course, as it may affect your access to future government funding. Please refer to our website for more information on which courses have access to funding and associated fees.
You can check your eligibility and funding conditions online at Victorian Skills gateway. You can begin up to two government subsidised courses in one year and do up to two government subsidised courses at the same time if eligible. (These limits may not apply to Apprenticeships. For more information on these courses speak with an authorized delegate of SIU.) You can begin up to two government subsidised courses at the same qualification level (other than Foundation Skills) in your lifetime, regardless of whether you complete them. There is no lifetime limit on the number of Foundation Skills courses you can begin.
Basic Skills First Funding Information
You must be an Australian citizen, a New Zealand Citizen or an Australian Permanent Resident or are referred from either the Asylum Seeker Resource Centre or the Australian Red Cross Victims of Human Trafficking Program.

You must be up-skilling to a higher qualification if you already hold one.

Unless you're under 20 years old at the 1st of January this year OR

You're enrolling in a Foundation Skills List course OR

You're enrolling as an Apprentice

You can enrol in only two government subsidised courses in one year.

You can undertake up to two funded courses at any one time.

You can only ever begin a maximum of two funded courses at the same qualification level.

Other eligibility criteria may apply.
Prior Qualifications & Funding
SIU is required to collect information about the highest Australian qualification you have obtained as well as any other courses commenced or due to commence; this is to establish your suitability for the course and your eligibility for potential funding. If you provide incorrect information or omit information about current, past or future courses, and this results in your ineligibility for funding, then SIU has the right to change your fee structure to the appropriate tuition fee as listed on our website.
Student Support
Contact SIU Student Support on:
1300 555 748
Student Support can help provide advice or direction to other services, such as:
Student learning assistance
Welfare services
Accommodation services
Financial support services
Health and disability services
IT support
English language support (relative to the course)
Facilities and resource
Career Support & Job Application
Trainer/Assessors – Trainers are available for questions and additional help offered at the end of class. Any queries sent to trainers by students via email will be answered as soon as possible. Assessments submitted will be marked by the trainer according to the marking guidelines. Your trainer will provide feedback on your assessments at your next session or, if face to face classes have finished, via phone call or email.
One on One Student Support Bookings – One on one sessions are available with our student support trainer and assessor. Student Support is available for students who need additional help working through any learning material or assessments after first attending the class. Online student that require extra assistance can also book into one on one sessions or complete the unit in the classroom. SIU can offer support to students who need additional language, literacy or numeracy support. These services can vary depending on individual student requirements.
Administration Team – The administration team located at our Head Office are available from Monday – Friday 9am – 5pm (public holiday excluded) for any queries the student may have in relation to their class or course. The team are always willing to assist as much as we can. If you call the office directly, we aim to resolve your query there and then. On occasion it will be necessary to escalate the query within the office. We aim to respond to all queries within 5 business days.
We also recommend the City of Melbourne's Helping Out Guide – a comprehensive list of free and low cost services in Melbourne.
Equity and Equal Opportunity (EEO)
SIU is committed to the principles of equity and equal opportunity aimed at providing a safe, harmonious workplace and learning environment, free from harassment and discrimination. Students have equitable access to all programs irrespective of their gender, culture, linguistic background, race, location, socio-economic background or disability. Every applicant who meets the entry requirements as prescribed by the appropriate Training Package and or 'Key Selection Criteria' will be accepted into any training/assessment program. Some programs may have a limited number of vacancies and these will be filled in chronological order upon completion of enrolment interview. Admission procedures will therefore be free of discrimination, and if an individual does not meet entry requirements, all attempts will be made to assist them to identify alternative options for them. SIU staff have been instructed in their responsibilities regarding Access and Equity principles.
SIU is committed to assisting those with special needs. This may include persons with disabilities, mature age adults, long-term unemployed adults, adults with low self-esteem / confidence, adults requiring literacy/numeracy assistance and single parents.
Please feel free to raise with SIU staff any issues around equity and special needs that might affect you.
Disability
The Disability Discrimination Act uses the principle of reasonable adjustment, sometimes called reasonable accommodation, to ensure equity of treatment for people with disabilities. This means that, wherever possible, 'reasonable' adjustments must be made to meet the individual needs of any student with a disability.
Among the things we can do to assist with any requirements you might have are:
Make training and assessment materials and methods more accessible
Present information through a range of methods
Adapt the physical environment and equipment
If you require more details about reasonable adjustment, please contact Student Support.
Media Consent
SIU may take photos or videos of you in class. These photos might be used in advertising material on our website and other social media. Please let your trainer know if you do not wish to participate in any photographs.
Communications
SIU will contact you regularly throughout your course; with assessment feedback, news and course information. Please ensure that SIU always has current contact information for you. This must include your current postal address and phone number at a minimum.
You'll be in contact with both your trainer and the SIU staff. Ensure you always respond to SMS and email contact asking about your progress. This helps us provide you with the best experience.
After enrolment we'll provide you with login details to the VETtrak Student Portal, where you can view key course information and messages from your trainer.
Training & Assessment Procedures
All trainers and assessors working for SIU hold a formal qualification in Training and Assessment which is in line with the current VRQA Guidelines for VET Providers. Each trainer is required to complete regular professional development.
Depending on the course you enrol into, training may take place in the classroom, online via Zoom and, where required, in the workplace. You'll have self-paced learning to complete outside of the theory sessions and a practical placement or workplace experience for some courses. Your course brochure, timetable and training plan will specify the delivery method and assessment requirements for your course.
Your assessments are completed online through Canvas, our Learning Management System (LMS). Assessments may include several units and some units may be assessed across several assessments. Some units may be assessed as a cluster as they have similar requirements.
We will assign you a course mentor to review and mark your online assessments and provide feedback (as standard within 10 business days). If further training is required, your mentor will contact you to arrange this. They can offer some technical support, but you can always call or email the office with any technical issues you have relating to Canvas, and somebody can assist you. Your first port of call in Canvas is the Passport course, which will induct you to Canvas if you have never used it before and give you all the information you need to navigate the system, complete your work and submit your assessments.
Students will always be given notice of the time and form of assessment and will not be expected to complete an assessment for which they have not had time to prepare.
Your trainer will assess your competency in the course and provide feedback as needed throughout assessments. The trainer is required to mark and submit completed assessments to SIU Head Office within 10 working days of receiving them from you.
If you do not agree with your trainer's assessment results, you can make an informal enquiry directly to your trainer or you can make a complaint via the complaints and appeals process, documented further within this handbook. A complaint and appeal form is located on our website.
Online delivery via Zoom
Depending on the course and course delivery you select, some or all of your classes may be delivered via Zoom. Zoom is a popular video communication service, appropriate for delivering a presentation and facilitating discussion.
You can join Zoom classes using a phone or a computer, either through a browser or an app. We'll record all Zoom sessions for record-keeping, quality assurance and training purposes.
Canvas – our Learning Management System (LMS)
Your assessments are completed online through Canvas, a leading LMS used by schools and universities all over the world.
You can access Canvas to complete and submit assessments on a computer or phone. Some assessments will be easier to complete on a computer, whereas a phone will be appropriate for some written and multiple-choice questions. Canvas offers an app for Android and iOS.
We will assign you a course mentor to review and mark your online assessments and provide feedback (as standard within 10 business days). If further training is required, your mentor will contact you to arrange this. They can offer some technical support, but you can always call or email the office with any technical issues you have relating to Canvas, and somebody can assist you.
Mode and Method of Assessment
SIU uses a variety of assessment methods to determine your competency throughout the course, including:
Written, including short answer, multiple choice, projects and case studies. All written assessment is online, through our Learning Management System (LMS) Canvas.
Practical simulations, demonstrations, and role plays – mostly assessed face to face, though there are options to record some skills and upload them to Canvas.
Oral questioning
Workplace observations and projects
We present our course material in various ways to cover different learning styles:
Interactive role plays
Class discussions
PowerPoint presentations
Videos
Guided content
Online learning
There are written assessments for every unit of competency that will need to be completed outside of class. Some assessments will cover multiple units, or there may be multiple assessments for each unit of competency. The assessments required for each unit and the methods used to assess each unit are listed on your timetable and training plan.
Some parts of the course are completed on our online Learning Management System (LMS), Canvas. We'll provide reasonable adjustment for students who cannot complete online elements of the course. You'll need internet access and a laptop or desktop computer to use Canvas. Student have access to free wifi on campus and laptops are available for use upon request. Students may bring their own devices if they wish.
Some of our courses require you to complete a practical placement or experience in the workplace. These qualifications cannot be successfully completed until the placement requirements have been satisfied.
Reasonable Adjustment
We can vary the methods of assessment to suit your individual needs if required and if appropriate for the unit of competency. Discuss these with your assessor.  We will provide reasonable adjustment for students who cannot complete various online components of the course.
Reassessment
If you have been assessed as Not Yet Competent/Satisfactory in a Unit of Competency you will be given the opportunity to complete a reassessment.
A student will not be charged a reassessment fee if they are assessed as Competent during the in-class reassessment process, in this case students are usually given three chances at reassessment (with re-training) within class hours. If a student is required to book in a reassessment to be conducted outside of class time, a reassessment fee may apply, fees are documented in the statement of fees and charges on our website.
Attendance
You should attend all classes (80% minimum required); classes contain practical training & assessment will miss out on crucial theory and potentially assessments.
If you miss a class, it is your responsibility to arrange a catch-up session with your trainer or complete the session with another class. Student Services will contact you to arrange make-up classes if you continually miss class.
If you are disruptive, arrive late, leave early or miss too many classes this could result in official warning letters, cancellation or deferral of your studies.
Student Progression
We require all students to display consistent engagement and progression with the course to remain enrolled. For students who utilise Skills First funding especially, there are particular requirements for evidence of participation.
We monitor student progression based on assessments submitted, classes attended and work completed through Canvas, among other factors. You can view the status of your enrolments and associated units by logging into the VETtrak student portal.
For students who do not demonstrate progression, we will attempt contact using email, sms and phone calls to best help get that student back on track. For students who continually demonstrate no progression or engagement or contact with us, we will follow our procedures for course withdrawal.
Practical Placements
Several courses will require you to complete practical placement hours in a real workplace to gain competency. You will be practicing the skills you have learned in theory in a workplace. There are a specific number of hours required depending on your course and these will be documented in the course brochure and your Logbook.
What responsibilities are involved?
During the placement, you will be expected to behave like a new employee, following the rules of the workplace and the directions of the workplace supervisor and other employees. You will need to comply with all safety and OH&S policies and procedures, as well as other protocols that are practiced by the host employer.
Prior to commencing your work-based training:
both you and a workplace representative sign an RTO & Employer Agreement
you will complete an induction with the workplace
Your placement location MUST be approved by SIU head office prior to commencing. You must provide your workplace agreement to SIU to verify details and confirm that it is a suitable workplace for placement. A workplace supervisor will need to sign off on your shifts completed.
What about Assessment?
For some courses, you may be required to maintain a Practical Placement Logbook. Your trainer will discuss this with you. Your trainer will also give you information on the way your assessments will be conducted and recorded.
Attending your Placement
ATTITUDE
be willing to learn
listen to instructions and complete the tasks assigned
ask questions
be polite, courteous and well-mannered with all staff members
dress appropriately
follow all workplace policies and procedures.
SAFETY
wearing protective clothing
working in a safe manner
reporting any hazards or unsafe practices that you observe
reporting any accidents to your workplace supervisor & practical trainer immediately.
ATTENDANCE & PUNCTUALITY
start your placement on time and stay for required shift duration
take only the allocated time for lunch and tea breaks
contact your workplace supervisor and your trainer immediately if you are unable to attend your placement.
What if you have a problem with your placement?
Problems with your placement should be resolved as early as possible. Your trainer and employer have agreed dispute resolution procedures. Do not hesitate to contact your trainer if you experience any difficulties or problems while on your practical placement.
 Download the Department of education practical placement guide 
Completions & Certificates
Once all assessments requirements for each unit have been deemed satisfactory, the unit will be made competent. Students successfully completing all assessment requirements for a qualification will be awarded a Certificate for the level of the completed course (for example, Certificate III in Hospitality).
If you withdraw or transfer after successfully completing any unit(s) of competency in which you enrolled, you will be entitled to receive at no cost a formal Statement of Attainment for the units you have successfully completed.
Certificates and/or statement of attainments are issued out within 10 working days of final competency being confirmed.
Please note that fees must be paid in full before any certificates are issued.
Deferrals and Withdrawals
If you decide to withdraw from your course or defer your enrolment speak to the SIU head office staff for advice on your options.
Depending on the length of your deferral, when you return you may be required to join a new class with a different time, trainer and location to your original class. We will provide you with your options when you return. Enrolments can be deferred for a maximum of 6 months. If you require a longer break from study, you will be withdrawn from the course, however you can recommence at a later date.
Withdrawal
If you do not come to your scheduled classes as agreed and we cannot contact you, you may be withdrawn. We will send you a Statement of Attainment for any units you have successfully completed, if you have paid all outstanding fees. 
If you have finished scheduled classes, we will keep in touch with you regarding your assessments. Similarly, if we are unable to contact you over an extended period, you may be withdrawn. To remain enrolled, you must submit assessments on a regular basis to show evidence of progress towards completing the qualification.
If you wish to voluntarily withdraw please email info@serveitup.com.au and list your reason and your full name and qualification you are enrolled in. Please remember if you have enrolled in a government funded course but decided you don't want to continue; your enrolment will still count towards your funding eligibility.
Traineeships
Australian Apprenticeships covers all apprenticeships and traineeships. They combine time at work with training and can be full-time, part-time or school-based.
As an employer you may be eligible to receive both federal and state based government training incentives for the up skilling of your staff in their area of expertise under a national recognised AQF (Australian Quality Framework) approved Certificate III to an Advanced Diploma. However Serve It Up don't have traineeships at Advanced Diploma level. Employers and the training organization should check each course to see if it is suitable for a traineeship or apprenticeship as some courses are not.
An employee participates in structured training as a part of their employment. The Employer can be given incentives by the Federal Government to help cover the costs of training for their employees.
The employer can only get funding for eligible employees, eligibility can differ between courses and industries, and you should check eligibility for employer funding with the Australian Apprenticeship Support Network (AASN).  Or you can visit https://www.australianapprenticeships.gov.au/aus-employer-incentives .
AASN's are contracted by the Commonwealth Government to administer the Australian Apprenticeships program and:
Provide information and advice to employers and other interested parties regarding qualifications, delivery of training and funding available under the AA program.
Link Employers with appropriate Registered Training Organisations (RTO's) for training delivery.
Register the National Training Contract with State Training Services
Pay Commonwealth Government Incentives to employers and apprentices
The Registered Training Organisation (RTO) 'Serve It Up' in this instance can also receive funding from the Victorian Government to cover the additional costs of the training.
Generally, employees need to be a new employee, enrolling in a course that is higher than the current level they successfully hold, be Australian or have permanent residency. Additional requirements will apply for eligibility for the Victorian Funding.
The objective of traineeships is to contribute to the development of a highly skilled and relevant Australian workforce that supports economic sustainability and competitiveness.
Employment conditions
The conditions of employment for Australian Apprentices are the same as for other employees working in similar occupations. This includes hours of work, overtime, holidays, personal leave, superannuation and other penalty provisions. Additional working conditions for Australian Apprentices require you to ensure they have:
• every opportunity to learn the skills and acquire the knowledge of their trade or traineeship
• access to structured on and/or off-the-job training
• paid time off work to attend training when necessary
• a safe working environment.
Types of training & assessment:
Off-the-job structured training refers to training that is conducted by the RTOs training staff at the RTOs training facility, often referred to as trade school, block release or on-campus training.
Workplace Based Structured Training: refers to training that is conducted by the RTOs training staff at the Trainees workplace. The apprentice/trainee must be withdrawn from regular work duties in order to participate in training.
Prior to sign-up
Prior to commencing sign-up and starting the employer needs to complete the eligibility spreadsheet with all employees' details. This needs to be sent to the RTO and ACC approximately 5 working days prior to sign-up and the information session.
The employer must also approve the preliminary draft of the training timetable, with dates and times for training sessions and check holiday periods are accounted for.
Serve It Up will conduct a workplace inspection and induction prior to commencing training and sign-off of the training plan.
Employer Roles and Responsibilities
Payment of training fees
Ensure all invoices to Serve It Up are paid within their required time frame. Your fees may increase if group size decrease this will be documented in your employer Pre-Training review and Contract.
Pay your apprentice/trainee the agreed wage and inform them of the terms of their employment. Provide Superannuation and Work cover insurance. 
If your apprentice/trainee ceases employment, notification needs to be made within 5 days to Serve It Up and the ACC.
Employer Incentives
Employer incentives (to cover your employee's costs of training) are arranged between the company and the AASN The training organisation does not manage these. Please discuss these payments with the nominated AASN. Generally most payments will not be processed to you for a minimum of 6 months, assuming the employees is still continuing their work and study. You will need to sign 2 forms (1237) per student at a minimum to claim your funding. Serve It Up also needs to sign the same forms, to confirm training has been commenced and delivered.
There are several incentives currently available to eligible employers of Australian Apprentices (Trainees). Each incentive payment has several eligibility criteria that will be assessed by an AASN.
The standard commonwealth incentive payments may be due for claim, six months from commencement of the training contract and upon successful completion. The claim process is made in direct liaison with the AASN and employer/Australian Apprentice.
Provision of venue
If training is conducted in your workplace, ensure your venue meets the criteria for the training program.
You must be able to provide a space for a training session to be conducted, where possible out of operational hours. The venue must be accessible at the time training is conducted, ensuring a staff member has key access at all times.
If training sessions are conducted into the evening the venue should be secure. You need to be able to provide sufficient lighting, tables and chairs for staff to use during the training session.
You should also provide a safe workplace; free from hazards that could cause harm to student, trainers and assessors.
Resource requirements
In liaison with the training manager, you are to discuss resources that can be provided by your workplace to improve the quality of the training delivered. You must be able to provide access to power and a suitable training environment free from interruptions if training is conducted in the workplace.
Ideally we suggest you utilise our specially equipped training facilities at 617 Spencer Street for the face-to-face classes. We have a fully equipped bar, 4 commercial coffee machines & training restaurant.
Workplace supervisor
You, the employer, are required to appoint a workplace supervisor for the employees whilst in the workplace. The workplace supervisor will be the liaison between Serve It Up and the students. When required, they will need to forward messages to students and encourage their participation in class and completion of homework tasks.
The workplace supervisor (which could be the owner/manager or person in a supervisory position of the student) will be required to complete reports for the student's performance in the workplace. They will also be required to sign off the completion of tasks in the student's logbook. The workplace supervisor needs to oversee the student/employee in the workplace, as they will be required to practice the skills required for the course in the workplace.
Hours of work, student practice and learning
You must ensure students have sufficient time to practice the skills that they have learned in the workplace.
Trainees and apprentices should be working a minimum of 13 hours per week (can be averaged if work longer over holidays) and attending our structured training sessions. Pro-rata for part-time employees.
General Conditions All parties
Assessments & Homework
Students will be required to complete a number of written and practical assessments. These are to be completed by each individual student. In each logbook/placement book is a section for the workplace supervisor to complete, these are only to be marked off and signed when the student has completed the required tasks in the workplace to an acceptable standard. We will keep a checklist of assessment submission and this will be sent to the employer monthly at a minimum.
Attendance & Structured Training Sessions
It is the employer's responsibility to ensure employees/students show up for the training sessions. Serve It Up will send the employer a copy of the attendance sheet after every structured training session. If a trainee misses a session, they must catch up.
Block training will be conducted for many courses and this will be identified in the specific course timetable. Generally, block training will be conducted over several weeks and will focus on compliance and regulatory units and ensuring the students obtain the required knowledge and practice of skills before conducting them in the workplace.
Extending your course
An application for an extension to the term of the Training Contract must be made if your employees/students are unable to complete the Structured Training prior to the nominal completion date of the Training Contract. If this student is a trainee, this application should be lodged by yourself, the employer, via the relevant AASN.
Communication
Prior to the commencement of training the employer should send Serve It Up and the trainer specific requirements for their training and discuss these options in a meeting. These requirements should be emailed to the RTO where possible. Serve It Up will respond back with a desired action plan.
Serve It Up will make monthly contact with the employer and employee via email/phone/face-to-face to communicate the following:
Employee/student attendance and progress towards competency
Additional practice of skills required in the workplace
Students assessments that still need to be submitted
Logbook progression
If we can't make contact with the trainee/employee, if they fail to attend training session, or if they are not progressing satisfactorily we may need withdraw them from the course, suspend and/or cancel their traineeship.
Serve It Up will need to notify your AASN Provider and Victorian Registration and Qualification Authority (VRQA) for any situation, including absences, which has the potential to affect successful completion of the course. Therefore, the employer also needs to notify Serve It Up and the AASN if they identify a similar situation prior to the RTO.
Confirming Competency
Final competency of the employee/students' performance will be documented by the employer in the logbook. This logbook should be signed by all parties and returned to Serve It Up within 10 working days of assessing the employees/students final competency.
Unemployment of a trainee or reduced hours of work
If your business is slow, you may need to reduce your Australian Apprentice's working hours until business picks up again. You may need approval from your State Training Authority before you can reduce your Trainees hours. If you are considering closing or selling your business, the traineeship can be suspended or assigned to the new owner of the business if they agree to continue the training.
You must advise the AASN and Serve It Up immediately if any of the above happen.
Assessor Visits
Serve It Up will conduct assessor visits in the workplace, to the following ratios, during these visits the assessor will observe the student's practical performance of skills, these will be documented in the practical observation section of the relevant assessment. Serve It Up will, depending of the portion of Training & Assessment in the workplace, conduct a minimum of additional visits:
Conduct 1 visits if 25% or less of nominal hours of the qualification
Conduct 2 visits for 26-50% or less of nominal hours of the qualification
Conduct 3 visits for 51-75% or less of nominal hours of the qualification
Conduct 4 visits for more than 75% or less of nominal hours of the qualification
Issuing the Qualification
On successful completion of the qualification, your certificate will be sent to your employer for you to collect, unless another arrangement has been made.
Useful
links
Department of Education, Skills and Employment
Victorian Registration & Qualifications Authority
Business.gov.au – How to hire an apprentice or trainee
*Please double check all information relating to Federal government incentives directly with the Australian Apprenticeship Support Network, incentive programs can change from time-to-time and we want to make sure you have up-to-date information.
Student Code of Conduct
Act in a safe manner and follow instructions provided, report any hazards and/or critical incidents you identify.
Regularly and punctually attend classes in clean, pressed and appropriate clothing and wear appropriate footwear during practical sessions.
Mobile phones are not to be answered or used to SMS during class. If you are waiting on an urgent call, please discuss with trainer before the session starts.
Follow any directions given to you by SIU staff to ensure a safe and secure educational and working environment.
Keep your workspace in a clean, neat and tidy condition.
You must not cheat (i.e. lie, copy others work, trick or deceive) in submitted work and/or during assessments or examinations or plagiarise another person's work. "Plagiarise" means to copy texts or take ideas from another person's work as if they were your own. If you use other people's work or ideas, you must acknowledge in your work that you have done so. If you are found to be cheating or plagiarising, you will be deemed Not Yet Competent in the unit being assessed. If you are found to be cheating or plagiarizing a second time, your enrolment may be cancelled.
You must not consume illicit drugs or be affected by illicit drugs when attending SIU classes. If you are found to be affected by illicit drugs when attending classes, you will be asked to leave the session and your enrolment may be cancelled.
You must follow the principles of RSA (Responsible Service of Alcohol) when preparing and tasting alcohol in the classroom. Preparing drinks and tasting recipes forms an important part of the course, but your safety is the priority. You are not obliged to drink alcohol. Please inform your trainer if you do not wish to participate and reasonable adjustment will be made.
You must not steal from any person or from SIU or cause damage to any SIU property. If you are found to have breached this rule your enrolment may be cancelled, and you may be reported to the Victoria Police for prosecution.
You must not disrupt the classes or instruction provided by SIU at any time. It will be at the trainer's discretion to ask you to leave class and you must comply with any direction given to you.
You must not participate in bullying, intimidating or assaulting any person or use insulting or offensive language or behaviour, racist or sexual abuse or possess or use any weapon while attending SIU classes or on SIU property. You will be expected to report, in confidence, any breach of these standards to the CEO or any SIU staff member you are comfortable with. If you are found to be participating in any of these activities or behaviours your enrolment may be cancelled. If the breach is of a criminal nature you may be reported to the Victoria Police.
You are expected to pay all accounts, fees and fines in full when they are due. 
The right to be treated with respect from others, to be treated fairly and without discrimination, regardless of religious, cultural, racial and sexual differences, age, disability or socio-economic status.
Employment
We cannot guarantee you will gain employment with the successful completion of your course. We can however, guarantee, we will help students that follow our processes to find their own work and practical placements and we will provide you with support to help you in your studies. Refer to the Jobs page. 
Student Facilities
Students are encouraged to use the facilities available in the training rooms. There are tables and seats for you to eat your lunch, and for you to relax during a break. Hunters & Disciples, our café, is available on the ground floor of our Head Office and main training location in West Melbourne. Melbourne CBD is a short tram ride.
Training Locations
Our training locations are across Melbourne, CBD and suburbs, and students will not be required to attend classes later than 9pm in the evening. All owned and operated campus locations have video surveillance in place to increase the safety of staff and students. Doors are set to automatically lock to the street by 6pm in the evenings. When a hired venue is in use, specific safety measures will be maintained, specific to the venue and the time of the class, generally if an evening class, trainers and students will leave together.
The information session will cover location specific safety information.
Computer Access
SIU has computers for your use at our head office in Melbourne CBD. These computers have software to help you do your work, and you can access the internet from them as well. If you are having problems logging on, please see Student Support.
Fees and Charges
There is a link to our statement of fees and fee information here. This includes enrolment and material fees, additional charges and reassessment fees as well as the approximate reimbursement SIU will receive from the state government per nominal hour of training for each funded qualification.
When Fees are Due
Fees can be paid upfront or via a "Gocardless" payment plan. Payment plans must be completed within the first 2 weeks of your course.  If a direct debit/payment plan bounces, you must arrange to have the payment reimbursed within 7 days.
We do not accept more than $1000 prior to commencing your course, and once commenced, no more than $1500 in advance of services delivered. Fees are compulsory and if a payment is repeatedly not received as agreed in the payment plan, the student may be withdrawn from the course.
We will only issue a statement of attainment for units which have been paid for.
Exemptions and Concessions
Concession rates are only available on tuition fees for Government Funded students accessing the Skills First Program. Students holding a current Commonwealth Health Care Card, Pensioner Concession Card or Veteran's Affairs Gold Card, or those who are a dependent of the holder of such a card, are required to provide evidence they are a concession card holder at the time of enrolment and no later. You need only pay the minimum tuition fee specified for each course category. Material fees are not subject to a concession rate.
If a student is not a holder of a valid card or a dependent, as listed above, SIU may grant a partial concession on a tuition fee where we consider that its collection in full would impose extreme hardship. "Extreme Hardship" is not defined specifically, but the phrase indicates that the circumstances are exceptional.
Refunds
Refunds for courses are provided on the following basis:
No refunds are generally provided for training that has already been delivered.
If Serve It Up cancels a course, a refund of all fees is paid to the student or client, unless satisfactory alternative arrangements can be made, applications to withdraw from studies' requests received up to 10 working days prior to commencement of a course will be approved and a full refund, minus $50 to cover administration costs, will be paid.
Cancellation/withdrawal requests received less than 10 working days prior to the commencement of, or after the commencement of, a course will not be accepted and no refund will be paid.
Cancellations/withdrawal will only be accepted if they are received in writing via email, fax or post
If a refund is approved because a class was badly conducted or a trainer has not met expectations, and the student has attended at least two (2) classes, a full refund will be made.
If a student attends at least 1 class and then requests a refund on grounds other than class conduct, no refund will be made.
Special consideration can be given to individual circumstances at the discretion of the Operations Manager or CEO
To apply for a refund, you must complete and lodge a refund request form. The outcome of request If you would like to appeal any decision made in relation to refunds, you can access our complaints and appeals process – a complaints and appeals form is also available on the website.
Health and Safety
In the event of an incident involving injury or a medical emergency, please advise your trainer or other staff immediately or call 000. You will be advised of the location of First-Aid kits during your orientation.
All hazards should be reported to your trainer immediately, your trainer will do what is possible to fix that hazard or they will report via email to info@serveitup.com.au. 
Fire & Emergency Drill Procedures
SIU uses several training locations. During your orientation session you will be familiarised with the emergency exits and the evacuation procedure. You have an obligation to comply with a fire warden in the event of an evacuation.
No Smoking Policy
SIU has a no smoking policy that prohibits smoking anywhere in the building, including toilets. Smoking within 4 meters of a building doorway is also an offence which carries a fine. 
Students should not smoke at the front of the building to be considerate to our neighbours. If you must smoke, please exit the building and move away, extinguish the butt and dispose of it safely in a rubbish bin or butt bin.
Student Surveys
You will be provided with surveys throughout your course. One internal survey that is quick and gives us specific information on how we can improve our services. You will also be asked to answer a government survey (AQTF) which will be provided at the end of your course via an email link. In addition, you may be contacted by NCVER or the department of higher Education Skills Group to participate in one of their surveys; these are optional.
If at any time throughout your studies you wish to provide us with suggestions or feedback please call us, speak to your trainer or email the office. We appreciate all feedback. 
Complaints and Appeals
 SIU recognises that students will occasionally have a grievance concerning their courses or other administrative matters. SIU is committed to ensuring a clear, fair and equitable process aimed at positive resolutions and the restoration of positive and cooperative relationships. SIU will maintain the student's enrolment during the period of the complaint or appeal.
A Complaint is when a student is dissatisfied with a service or treatment received at SIU, by our staff, other SIU students or a third-party providing referral services.
An Appeal is when you believe a decision made by SIU is unfair or incorrect and you want that decision reviewed.
If a person or company other than SIU has directed you to consider a course with us and you are unhappy with their advice or information provided, please contact us immediately.
If you were provided, from any person or company, with any incentive to enrol with SIU, please let us know immediately. If another company represents themselves as the training organisation or misrepresents themselves as having a direct government endorsement, please inform us immediately.
 Students who are concerned about the conduct of Serve It Up staff, trainers and assessors, students and/or third parties relating to Serve It Up and/or management are encouraged to attempt to resolve their concerns using this process.
All complaints and appeals will be handled professionally, fairly and equitably and confidentially in order to achieve a satisfactory resolution. 
At any stage in the internal complaint or appeal process, students are entitled to have a person of their choosing to accompany and support them. Students may raise any matters of concern relating to training delivery and assessment, the quality of the teaching, student amenities, discrimination, sexual harassment and other issues that may arise.
A student's enrolment must be maintained whilst an internal complaint or appeal is in progress and the outcome has not been determined.
Serve It Up will encourage the parties to approach a complaint or appeal with an open mind and to attempt to resolve problems through discussion and conciliation. Where a complaint or appeal cannot be resolved through discussion and conciliation, Serve It Up acknowledges the need for an appropriate external and independent agent to review the process followed by Serve It Up.
If there is any matter arising from a student complaint or appeal that proves to be a systemic issue which requires improvement action, the matter will be reported to Serve It Up management meeting as part of the continuous improvement process.
Informal Complaint – Email, Call or talk Face-to-face 
Student or (other person) may make a complaint via phone, email, or verbally to an office staff member or trainer. Ideally the complaint is handled then and there if possible.
If the complaint cannot be resolved at that time is should be escalated to the Training Manager or Operations Manager. 
Formal Complaint – Email Complaints and Appeals form 
If the student is still not happy with the result, they must ensure they have lodged a formal complaint and appeal form, via info@serveitup.com.au and this then turns into a formal internal complaint that can be formally appealed.
Serve It Up must respond in writing (via email is possible) to any lodged complaint and appeal form within 5 business days. If the student is not happy with the resolution documented by Serve It Up, they have 30 days to appeal the decision.
The Appeal
The appeal should be in the form of a face-to-face meeting with the Operations Manager and/or CEO and student in which the issues and resolutions will be formally documented. To book an appeal meeting the student can call the office of email info@ serveitup.com.au. The appeal meeting must be heard no later than 5 business days after receiving the request, unless a later date is requested by the student.
Each party may bring with them a third party or advocate. Alternatively, if any party involved is unable to attend the meeting, the Serve It Up CEO or their delegate may contact them and allow them to respond in writing in relation to the complaint or appeal. The student will have an opportunity to formally present their case. And Serve It Up will have the chance to respond with why their decision was made.
Discussion, decisions and solutions should be documented and signed by both parties. Copies will be kept on the students file. If the student is still not happy with the result they can lodge an external complaint.
Where Serve It Up considers more than 60 calendar days are required to process and finalise the complaint or appeal, Serve It Up, informs the complainant or appellant in writing, including reasons why more than 60 calendar days are required; and regularly updates the complainant or appellant on the progress of the matter.
External appeal process
If a student is not satisfied with the processes followed by Serve It Up in relation to their complaint or appeal, they are advised to request mediation via our external appeals company, Mediation Institute Pty Ltd . They provide a formal, external and independent dispute resolution service. If a student chooses to use this complaints and appeals process, the student's enrolment will be maintained during the process.
Appealing to the VRQA
If students are still not satisfied with the result from the external appeals process, they can then report the complaint directly to the VRQA.
http://www.vrqa.vic.gov.au/complaints/Pages/default.aspx
Preservation of rights
Initiating this process does not inhibit student's rights to pursue other legal remedies. Serve It Up acknowledges that students are entitled to resolve any dispute by exercising their rights to other legal remedies.
Outcomes
If the internal or external complaint handling or process results in a decision that supports the student, Serve It Up will immediately implement any decision and/or corrective and preventative action and advise the student of the outcome.
Privacy Statements
SIU Privacy Statement
Your privacy is important to SIU. All personal information about you is treated in the manner required under the National Privacy Principles as set out in the Privacy Act 1988, Privacy Amendment (Private Sector) Act 2000 and the Australian information Commissioners Act 2010 or other relevant acts. I understand that SIU is required to provide the Victorian Government, through the Department of Education and Early Childhood Development, with student and training activity data which may include information I provide in this enrolment form. Information is required to be provided in accordance with the Victorian VET Student Statistical Collection Guidelines (which are available at: http://www.education.vic.gov.au/training/providers/rto/Pages/datacollection.aspx )
The Department may use the information provided to it for planning, administration, policy development, program evaluation, resource allocation, reporting and/or research activities. For these and other lawful purposes, the Department may also disclose information to its consultants, advisers, other government agencies, professional bodies and/or other organisations. This information may include personal and contact details, course enrolment details and changes. Personal information includes but is not limited to information concerning your work, studies, ethnicity, gender, living arrangements and languages spoken. You may request access at any time to information that we hold about you, and you have the right to ask us to correct information if you believe that information about you is inaccurate, incomplete or out of date. We will only disclose your personal information to others if you provide SIU with a written request or where the law permits or requires SIU to do so. For more information in relation to how student information may be used or disclosed please contact SIU on phone (1300 555 748) or email – info@serveitup.com.au  
NCVER Privacy Statement
Under the Data Provision Requirements 2012, SIU is required to collect personal information about you and to disclose that personal information to the National Centre for Vocational Education Research Ltd (NCVER).
Your personal information (including the personal information contained on your enrolment form) may be used or disclosed by SIU for statistical, regulatory and research purposes. SIU may disclose your personal information for these purposes to:
Commonwealth and State or Territory government departments and authorised agencies,

NCVER;
Personal information that has been disclosed to NCVER may be used or disclosed by NCVER for the following purposes:
•    Populating authenticated VET transcripts;
•    Facilitating statistics and research relating to education, including surveys and data linkage;
•    Pre-populating RTO student enrolment forms;
•    Understanding how the VET market operates, for policy, workforce planning and consumer information; and
•    Administering VET, including program administration, regulation, monitoring and evaluation.
You may receive a student survey which may be administered by a government department or NCVER employee, agent or third-party contract or other authorised agencies. Please note you may opt out of the survey at the time of being contacted.
NCVER will collect, hold, use and disclose your personal information in accordance with the Privacy Act 1988 (Cth), the National VET Data Policy and all NCVER policies and protocols (including those published on NCVER's website at www.ncver.edu.au).
Victorian Government VET Student Enrolment Privacy Notice
The Victorian Government, through the Department of Education and Training (the Department), develops, monitors and funds vocational education and training (VET) in Victoria. The Victorian Government is committed to ensuring that Victorians have access to appropriate and relevant VET services. Any personal information collected by the Department for VET purposes is protected in accordance with the Privacy and Data Protection Act 2014 (Vic) and the Health Records Act 2001 (Vic).
Collection of your data: SIU is required to provide the Department with student and training activity data. This includes personal information collected in the SIU enrolment form and unique identifiers such as the Victorian Student Number (VSN) and the Commonwealth's Unique Student Identifier (USI). SIU provides data to the Department in accordance with the Victorian VET Student Statistical Collection Guidelines, available at: http://www.education.vic.gov.au/training/providers/rto/Pages/datacollection.aspx
Use of your data: The Department uses student and training data, including personal information, for a range of VET purposes including administration, monitoring and planning. A student's USI may be used for specific VET purposes including the verification of student data provided by SIU; the administration and audit of VET providers and programs; education-related policy and research purposes; and to assist in determining eligibility for training subsidies.
Disclosure of your data: As necessary and where lawful, the Department may disclose VET data, including personal information, to its contractors, other government agencies, professional bodies and/or other organisations for VET-related purposes. In particular, this includes disclosure of VET student and training data to the Commonwealth and the National Centre for Vocational Education Research (NCVER).
Legal and Regulatory: The Department's collection and handling of enrolment data and VSNs is authorised under the Education and Training Reform Act 2006 (Vic). The Department is also authorised to collect and handle USIs in accordance with the Student Identifiers Act 2014 (Cth) and the Student Identifiers Regulation 2014 (Cth).
Survey Participation: You may be contacted to participate in a survey conducted by NCVER or a Department-endorsed project, audit or review relating to your training. This provides valuable feedback on the delivery of VET programs in Victoria.
Please note you may opt out of the NCVER survey at the time of being contacted.
Consequences of not providing your information: Failure to provide your personal information may mean that it is not possible for you to enrol in VET and/or to obtain a Victorian Government VET subsidy.
Access, correction and complaints: You have the right to seek access to or correction of your own personal information. You may also complain if you believe your privacy has been breached. For further information, please contact SIU's Privacy Officer in the first instance by phone 1300 555 748 or email info@serveitup.com.au  
Further information: For further information about the way the Department collects and handles personal information, including access, correction and complaints, go to: http://www.education.vic.gov.au/Pages/privacypolicy.aspx  
For further information about Unique Student Identifiers, including access, correction and complaints, go to: http://www.usi.gov.au/Students/Pages/student-privacy.aspx